May 15, 2023
Pre-construction activities continue to progress nicely. Ralph Appelbaum Associates (exhibit designer) is 50 percent complete with exhibit "concept development" and will finalize by July. CJMW (architect) has finalized building design documents and is transitioning to construction level detail. SAMET (general contractor) is moving forward on value enhancements (optimizing construction materials and building design) and identifying long lead items to ensure we remain on schedule once construction starts. Across the board, pre-construction activities are on track.
LONG LIVE THE LEGENDS
Our world class Construction Team was in Jacksonville to meet with us on 6 April 2023. While we meet with all of them remotely and often, it is always inspiring when they converge on our site. Photos show our team spending the day visiting the site, discussing the 50% exhibit concepts, going over details relating to finishes as well as civil aspects such as traffic, permitting, and timing. It is exciting to see the dedication of these individuals and their different companies as they join us in honoring Carolina Marines and Sailors, sustaining the ideals that are the foundation of our nation and inspiring principled, committed citizens. When the doors open, visitors will be immersed and inspired as will we!
March 28, 2023
With the team to build the Museum in place, we are moving out on the "Concept Design" phase with Ralph Appelbaum Associates (https://raai.com/), Exhibit Designer). It is fascinating to work with this team of experts as they develop an inspiring story that will be physically represented in the Museum. Also, CJMW Architecture (https://www.cjmw.com) are adjusting the original floor plan to enhance the visitor experience and capture all the requirements of the Exhibit Designers.
Simultaneously, our General Contractor (https://www.sametcorp.com) is executing a host of pre-construction activities focused on value enhancements and identification of long-lead items. All the while, our Construction Management firm (HICAPS) is working to synchronize activities to keep us on schedule and within budget.
It is exciting to see all the progress and we look forward to the day when we can announce our groundbreaking. We have one final approval pending with the site lease and it is being worked aggressively through all the different stakeholders. We are going to build a world-class museum!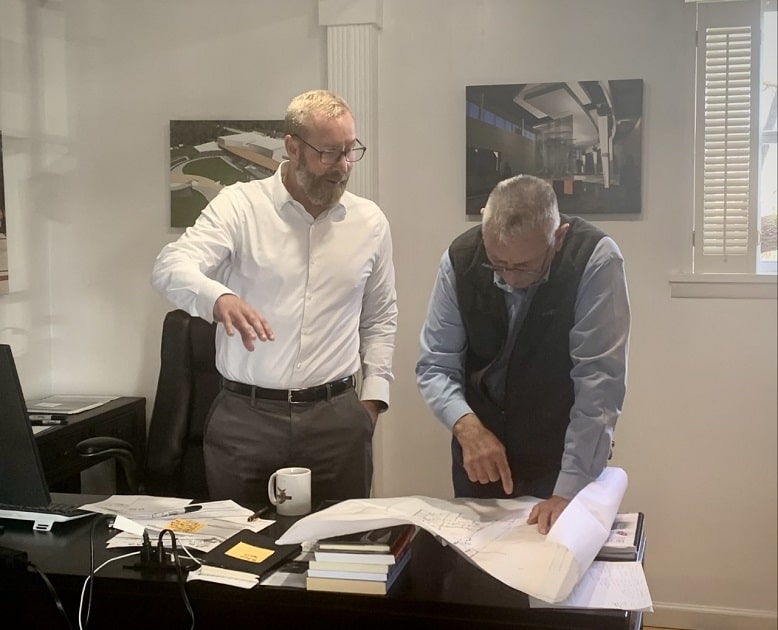 Left to Right (standing): Carl Schuemann (Preconstruction Museum Specialist, Samet Construction; John Drinkard (Architect, CJMW Architecture); Nick Appelbaum (Ralph Appelbaum Associates, exhibit designers); Tom Calloway (Architect, CJMW Architecture).
Left to Right (seated): Matt Krupanski (Ralph Applebaum Associates, exhibit designers) and BGen Kevin Stewart, USMC (Ret) (CEO, Carolina Museum of the Marine | Al Gray Civic Institute).
December 1, 2022
We continue our work with architects CJMW and construction managers HICAPS. Responses to the RFPs (request for proposals) were released for a General Contractor as well as for an Exhibit Designer and were due 22 November. Based on submissions received, we have selected the following to execute "in-person" interviews the week of 5 Dec.
Watch this space and our newsletter, FRONT AND CENTER, for updates!