November 2, 2023
Next Step: Bidding Process Begins…
All preconstruction activities are well underway to meet our goal of breaking ground in May 2024. Samet Corporation's October "meet and greet" with suppliers and subcontractors interested in bidding on our project brought us one step closer as the bidding process begins. Exhibit designs by Appelbaum and Associates are now at 50% schematic with plans to be at 100% by the end of January. One hundred percent architectural drawings by CJMW Architecture are exciting to see. We continue to thank Dave Smith at HICAPS for keeping us all on the same page and within budget!
The following images of the Museum itself are provided by CJMW Architecture. Images of exhibits in the design process are provided by Appelbaum and Associates. (Click on any image to view the gallery)
October 13, 2023
JOIN US…
for a supplier and subcontractor meet / greet, request for in-kind donations*, and a general information session for Jacksonville's Museum of the Marine project! The Museum of the Marine will supply the context for the project and a progress update, CJMW will review the construction documents, and Samet will review prequalification procedures, safety requirements, schedule, and bidding procedures for this commemorative project to honor Marines past and present.
Food & refreshments are provided!
WHEN: October 13, 2023. 10 a.m.–noon
WHERE : Sturgeon City / Wetlands Room
50 Court St. Jacksonville, NC Building 100
Please RSVP to Alex Holt at aholt@sametcorp.com no later than 09/29/23
*a gift of goods and services
August 28, 2023
For Immediate Release
Assistant USMC Commandant Endorses Site License
Carolina Museum of the Marine on Track to Break Ground in 2024
Jacksonville, NC – Carolina Museum of the Marine received long awaited news today. "The Marine Corps has favorably endorsed our request for a lease at Lejeune Memorial Gardens for our proposed museum," said the Museum's CEO, retired Brigadier General Kevin Stewart. The next step is to negotiate a lease with the Department of the Navy (the owner of the land). This process is estimated to take six to twelve months and a groundbreaking ceremony will be scheduled as soon as possible.
"I am proud of the work the state and local officials in North Carolina are doing to show the public the valiant and honorable history of our United States Marines through the Carolina Museum of the Marine. Camp Lejeune is fortunate to be a part of Jacksonville and the surrounding communities," said General Eric Smith, the Assistant Commandant of the Marine Corps.
Phase I of the organization's construction project, "Reflection and Celebration Park" was completed in 2016, accepted as a gift by the Department of Navy in 2018, and is now dedicated to the public. It is the most Instagrammed site in Onslow County with thousands of visitors each year. Numerous reenlistment, promotion and retirement ceremonies take place in front of its Eagle Globe and Anchor statue, the largest in the world. The Park and its Freedom Walkway sit at the entrance to the proposed museum site, Phase II of the project.
Carolina Museum of the Marine received a $26M grant from the State of North Carolina in 2022 and continues to progress with all preconstruction activities. A well-organized construction team includes Museum staff, HICAPS construction management, CJMW Architecture, Samet Corporation as the general contractor, and exhibit designers Ralph Appelbaum Associates.
Individuals and organizations who want to become involved with CMOTM and its museum are invited to contact Ashley Danielson at 252-617-7551 or adanielson@museumofthemarine.org. Contributions may be made online.
August 3, 2023
Pre-construction activities continue to progress nicely. Ralph Appelbaum Associates (exhibit designer) is at 100% concept completion. CJMW (architect) has finalized building design documents and is transitioning to construction level detail. SAMET (general contractor) is moving forward on value enhancements (optimizing construction materials and building design) and identifying long lead items to ensure we remain on schedule once construction starts. Across the board, pre-construction activities are on track, with construction drawings at 99% completion.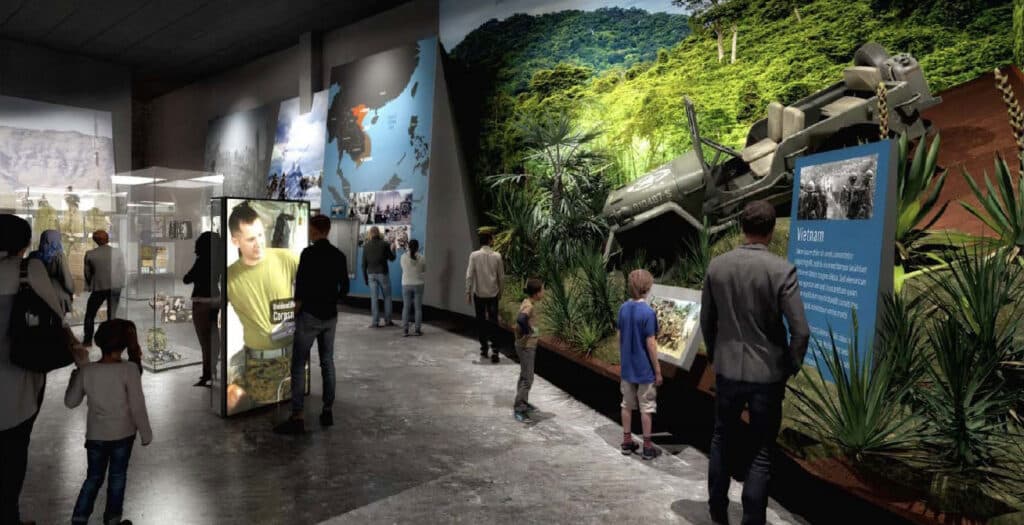 LONG LIVE THE LEGENDS
Our world class Construction Team was in Jacksonville to meet with us on 6 April 2023. While we meet with all of them remotely and often, it is always inspiring when they converge on our site. Photos show our team spending the day visiting the site, discussing the 50% exhibit concepts, going over details relating to finishes as well as civil aspects such as traffic, permitting, and timing. It is exciting to see the dedication of these individuals and their different companies as they join us in honoring Carolina Marines and Sailors, sustaining the ideals that are the foundation of our nation and inspiring principled, committed citizens. When the doors open, visitors will be immersed and inspired as will we!
March 28, 2023
With the team to build the Museum in place, we are moving out on the "Concept Design" phase with Ralph Appelbaum Associates (https://raai.com/), Exhibit Designer). It is fascinating to work with this team of experts as they develop an inspiring story that will be physically represented in the Museum. Also, CJMW Architecture (https://www.cjmw.com) are adjusting the original floor plan to enhance the visitor experience and capture all the requirements of the Exhibit Designers.
Simultaneously, our General Contractor (https://www.sametcorp.com) is executing a host of pre-construction activities focused on value enhancements and identification of long-lead items. All the while, our Construction Management firm (HICAPS) is working to synchronize activities to keep us on schedule and within budget.
It is exciting to see all the progress and we look forward to the day when we can announce our groundbreaking. We have one final approval pending with the site lease and it is being worked aggressively through all the different stakeholders. We are going to build a world-class museum!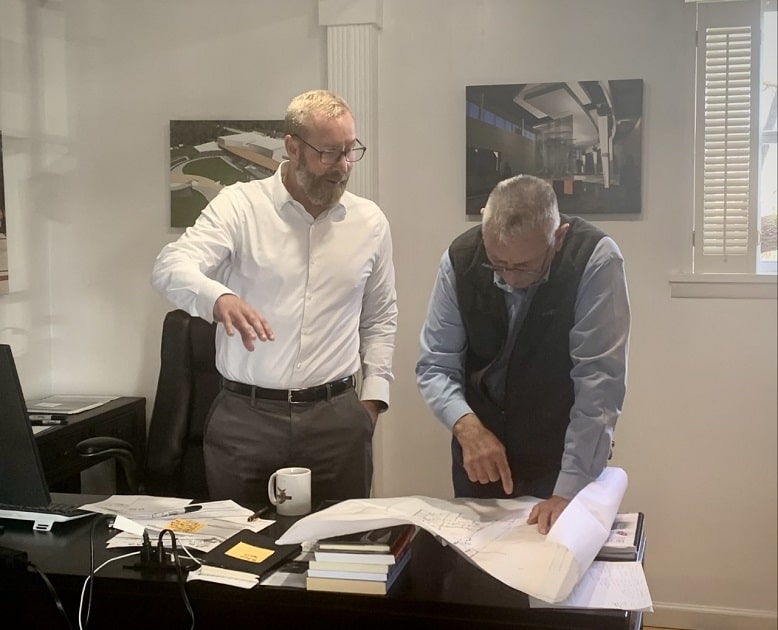 Left to Right (standing): Carl Schuemann (Preconstruction Museum Specialist, Samet Construction; John Drinkard (Architect, CJMW Architecture); Nick Appelbaum (Ralph Appelbaum Associates, exhibit designers); Tom Calloway (Architect, CJMW Architecture).
Left to Right (seated): Matt Krupanski (Ralph Applebaum Associates, exhibit designers) and BGen Kevin Stewart, USMC (Ret) (CEO, Carolina Museum of the Marine
December 1, 2022
We continue our work with architects CJMW and construction managers HICAPS. Responses to the RFPs (request for proposals) were released for a General Contractor as well as for an Exhibit Designer and were due 22 November. Based on submissions received, we have selected the following to execute "in-person" interviews the week of 5 Dec.
Watch this space and our newsletter, FRONT AND CENTER, for updates!